Vietnam E-Visa
1. What is Vietnam E-Visa?
Vietnamese visa is a kind of travel documents granted by Vietnamese competent authorities, providing permission to travel to and enter Vietnam.
An electronic visa (E-visa) is one of visa types issued to foreigners by Vietnamese Immigration Department via electronic system. Vietnam E-visa is valid for maximum of 30 days, single entry.
Outside Vietnam foreigners who want to enter Vietnam can personally apply for E-visa or through the inviting/guaranteeing agencies and organizations.
E-visa fee is paid via electronic payment gateway as prescribed by the Immigration Department. The fee will not be refunded if the application is refused.
E-Visa documents: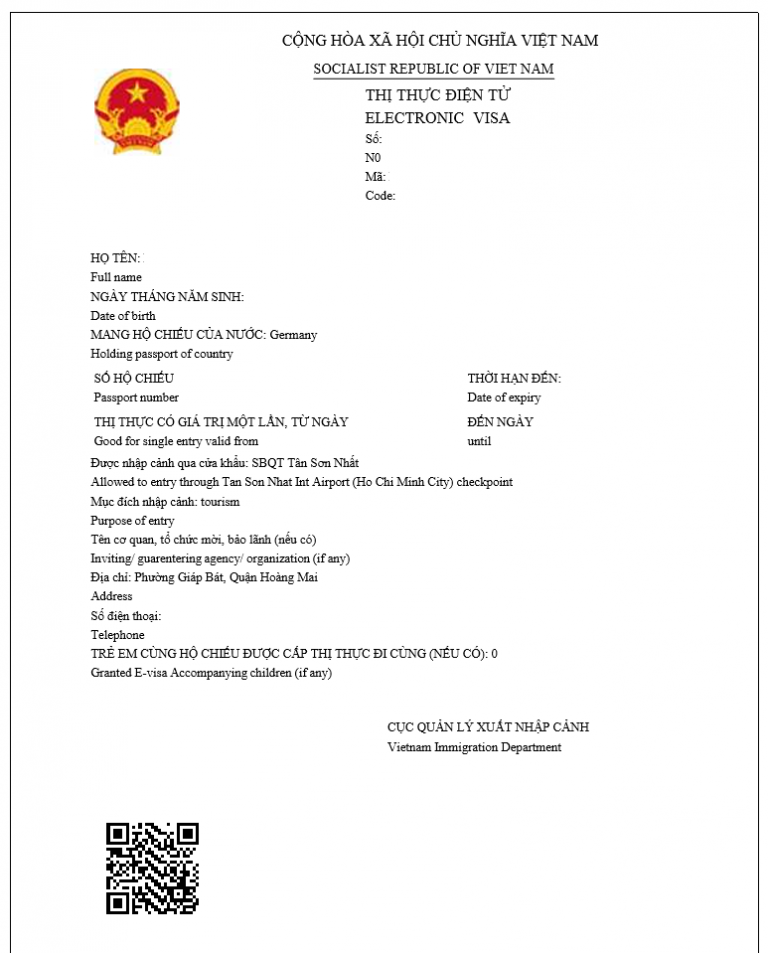 2. Advantages and disadvantages of getting an E-Visa

Advantages for getting E-Visa:

- E-Visa is really simple and convenient: save more time and money. You just need access to the internet, fill out the application online and receive the E-Visa within 5-7 working days.
- Receiving the E-Visa via email, printing, and using it to get a visa stamp at International Vietnam airport.
- The E-Visa is valid for all of transportation
- Don't need to send an official passport far away. Just make sure all information which you put on the application is correct.
- Very time- saving for making payment online. It is easy for some methods of payment: PayPal, One Pay, Western Union. Taking some minutes for sending the money to the visa agent's account.

Disavantages for getting visa on arrival:

- For getting a visa stamp in Vietnam airport, you have to queue from 15-30 minutes. It will be depend on the number of passengers waiting at the Visa Landing Counter.
3. How to apply Vietnam E-Visa?
There are 3 Easy Steps To Get Vietnam E-Visa

​
Step 1: Fill in the Visa application form and process payment
Step 2: Receive the E-Visa via email and print it out
Step 3:Submit the E-Visa, orriginal passport at visa counter in Vietnam to pick up visa stamp onto your passport

That is it! Welcome to Vietnam and have a good time!


If you need any further information about Vietnam visa or Vietnam vacations, feel free to contact us at +84.903.278.853 (available 24/7). Or email us at visa@govietnamvisa.com, our Customer-Care Consultants will respond within 2 hours during working time and 24 hours outside working time (Vietnam time GMT+7).